Click Here for Whitewater Outfitters
Colorado whitewater rafting begins each spring, when the warm temperatures and sunshine start the process of snow melt down from the mountains and into Colorado Rivers for some of the country's most amazing experiences.
Find yourself on a Colorado whitewater rafting trip passing by five 14ers on the Browns Canyon section of the Arkansas River, paddling technical sections of the Cache la Poudre River, viewing Gold Rush relics on Clear Creek in Idaho Springs, looking up at the jaw dropping high Royal Gorge Bridge from the Arkansas River or floating and relaxing down mild stretches of the Colorado River near Grand Junction and Glenwood Springs.
4 Things you should Know About whitewater rafting trips in Colorado:
Almost anyone can whitewater raft in Colorado: While experienced rafters or individuals seeking a rush can certainly find their experience on Colorado Rivers, the sport is safe and fun for people of nearly all ages and abilities. Just discuss your group's abilities with your Colorado rafting company when you sign up.
Colorado whitewater rafting guides are well trained and knowledgeable: All the rafting companies listed on this site are state-certified and have all the expertise needed to lead you safely down the river. They are accustomed to guiding trips for seasoned rafters and those who've never had this great experience.
Difficulty varies by time of year: Depending on the time of year and stretch of river, your trip could be a leisurely ride through calm waters or a heart pounding adventure through the rapids. In May and June, melting mountain snow brings big water and the rivers run faster for more exciting trips. By August and into September, the rivers are much milder and sometimes more technical.
You can customize your trip: Colorado whitewater rafting companies offer plenty of options for your trip, including multiday adventures that include camping, and the ability to combine whitewater trips with other adventures, like train rides, winery tours, zip lining, horseback riding and fly-fishing trips.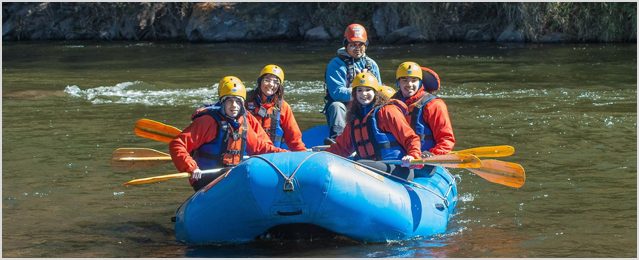 Click Here for Whitewater Outfitters
Rivers
Arkansas River
The Arkansas River Cuts through the central Colorado canyons and drops 5,000 feet in the first 125 miles, the Arkansas is one of the country's most popular rafting rivers. From the beautiful and scenic family-friendly Browns Canyon National Monument to exciting class three to the class four and five Bighorn Sheep Canyon and Royal Gorge stretches. Typical departure cities: Buena Vista, Salida, Cañon City.
Colorado River
The Colorado River is divided by the upper and lower sections, runs a group of canyons and ravines that provide amazing sightseeing intermingled within class one and two rapids and calms. Typical departure cities: Glenwood Springs, Grand Junction, Kremmling, Breckenridge and State Bridge
Clear Creek River
The Clear Creek is one of the most convenient rafting rivers to Denver, Clear Creek is located right off I-70. Once on the river, however, the interstate goes totally unnoticed as paddlers drop through the steep and narrow bed. Half- and full-day excursions satisfy those looking for a Class IV day or families seeking a quick splash of scenic whitewater. Typical departure city: Idaho Springs.
Cache la Poudre River
The Cache la Poudre River brings boaters on rapid-strewn runs that will provide a challenge for intermediate or advanced abilities. The Cache la Poudre River is Colorado's first and only federally designated National Wild and Scenic River. Typical departure city: Fort Collins.
Yampa/Green River
The Yampa/Green River winds through Dinosaur National Monument, this multi-day run floats you past fossils and archeological sites, American Indian rock carvings, interesting geological formations and sandy spots perfect for overnight camping. Typical departure city: Steamboat Springs.
Taylor River
the Taylor River has views of the jagged Collegiate Peaks mountain range oversee the three sections of varying difficulty on the beautiful and narrow Taylor River. Typical departure cities: Gunnison, Crested Butte.
Roaring Fork River
The Roaring Fork River upper section also known as "Slaughterhouse," is packed with tough rapids and is home to one of Colorado's few commercially rafted waterfalls. The lower section is popular with families and inflatable kayakers for its easier floats. Typical departure city: Aspen.
Blue River
The Blue River winds through Arapaho National Forest, the Blue River runs below the Gore Mountain range. The river is most popular in the early season, as it relies heavily on spring-snow runoff. Typical departure cities: Frisco, Breckenridge, Dillon, Kremmling.
Gunnison River
The Gunnison River cuts a path through the Uncompahgre Mountain Range, the Gunnison River runs its way through some of the most unique and amazing scenery in the United States, including the Gunnison Gorge, a red-sandstone and black-granite beauty with almost guaranteed wildlife sightings. Typical departure city: Gunnison.
Eagle River
The Eagle River is one of the few free-flowing (un-dammed) rivers remaining in the West, the Eagle is fed largely from the snowpack on Vail Mountain. Because it relies on that snowpack, it typically runs in the spring and early summer when the snowmelt is at its peak. Typical departure cities: Eagle, Wolcott, Edwards.
San Juan River
The San Juan River Flows through some of the most spectacular canyon country on earth, the San Juan descends more than 400 miles to its confluence with the Colorado River. Rafting outfitters on the lower canyon offer three- to seven-day wilderness excursions. Typical departure city: Pagosa Springs.
Where to Whitewater Raft in Colorado
With companies located near dozens of Colorado towns, including Buena Vista, Salida, Steamboat Springs, Winter Park, Vail, Grand Junction, Durango and Fort Collins, it's never hard to find a good place to get on the water.
Click Below for our recommended Outfitters that includes: Summit County: Breckenridge, Copper Mountain, Keystone, Frisco, Silverthorne & Dillon Vail Valley: Vail, Avon, Beaver Creek, Eagle & Edwards Grand County: Winter Park, Grand Lake, Granby, Fraser & Kremmling Aspen Area: Aspen, Snowmass, Glenwood Springs, Basalt & Carbondale Steamboat & Steamboat Springs Front Range: Denver, Boulder, Golden, Estes Park